Register Today for NO SHAVE NOVEMBER!
$20 Entry Fee
There is a category for everyone!
Awards reception will be held at Lescombes Family Vineyards on December 1st at 6pm.
All proceeds benefit our local cancer warriors!

Click the link to Sponsor:
https://tinyurl.com/4rr9xyma

Pledge a monthly donation TODAY to support our local cancer warriors!
Set-up reoccurring monthly donations online at:
https://cancer-support-of-deming-luna-county.square.site/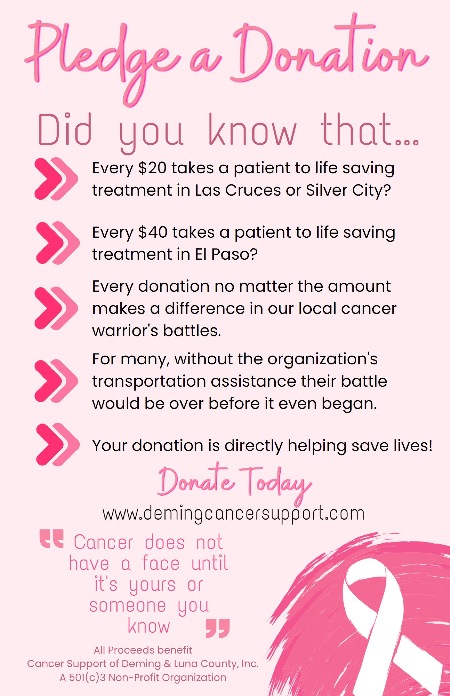 *Mission Statement*
Cancer Support of Deming & Luna County, Inc. supports and educates
patients and their families facing cancer.

We are a 501(c)3 non-profit organization and we are 100% funded by donations from our community. Our specialty is in the area transportation but we offer many other services to all cancer patients at no cost. Our office is located at 217 N. Country Club Rd., Deming, NM 88030. Our mailing address is P.O. Box 1746, Deming, NM 88031. You can also reach us at (575) 546-4780 and by fax at (575) 546-4261. We are looking forward to hearing from you. You can also contact us at our e-mail address: info@demingcancersupport.com

If you are not familiar with our organization and this is your first contact with us: We would be pleased to hear from you! Please let us know what your needs and questions are, we will be more than happy to help.

Thank you for visiting our website and please check back with us later to get the latest updates on the organization.